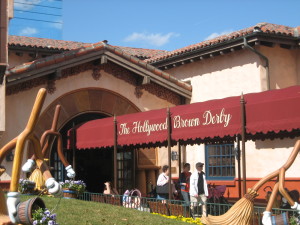 No one who knows me would say I am an adult. Well, I guess I am an adult because of my age, but I am definitely not grown-up. So how can I write a series on adult things to do in the Disney parks? I know a lot of adults and if I was visiting the parks with them I would recommend these ideas. The fun part is that the five ideas I have listed work for both grown-ups and those of us who never grew up.  My short list works for those adults who don't want anything Mickey Mouse. Why would they go to a Disney park, you ask? Because the parks are for everyone. Today we'll visit Disney's Hollywood Studios at Walt Disney World.
Disney's Hollywood Studios is another park that I would say has a lot of adult appeal. There are attractions for families and children but they are off in their own sections and are easy to avoid it you are looking for grown-up fun. My favorite restaurant is in this park so I always make a point of visiting during my trip. I admit I skip some of the more adult attractions but I know so many people who love them that I feel safe recommending them here.
5 fun activities that adults can enjoy at Disney's Hollywood Studios:
1) Have a meal at The Hollywood Brown Derby. There are no bad meals at the Hollywood Brown Derby and the atmosphere takes you back to Hollywood in the 1920s. I recommend the combo option that includes an appetizer, main dish, and dessert. If you have a hard time choosing dessert I suggest you try the grapefruit cake. It tastes like you're eating dessert for breakfast, really light and fresh. I never miss a chance to enjoy a slice.
2) Hit the rides on Sunset Boulevard. Sunset Boulevard has great shops and two awesome rides for adults. The Twilight Zone Tower of Terror is a must ride for anyone who likes to be scared out of their wits while being randomly dropped from 13 stories. It is not just the elevator ride that freaks people out, but the psychological mind games the show plays before they drop you. I have taken the plunge and I think I'll take the stairs next time. For a ride a little less scary but just as thrilling check out the Rock 'n' Roller Coaster Staring Aerosmith. This dark ride combines great music with a super-fast coaster that has you twisting and turning through the streets of L.A. You'll hardly have a chance to catch your breath before the ride is over. Cool.
3) Check out Lights, Motors, Action! Extreme Stunt Show. There are several live shows at Disney's Hollywood Studios, but the most impressive one involves multiple stunt cars, jet skis and fire. Lights, Motors, Action! Extreme Stunt Show takes you behind the scenes and shows you how exciting the car scenes you see in movies truly are.
4) Take a walk down the Streets of America. How would you like to have your picture taken on the streets of New York, walk a few feet and then be standing in San Francisco? Visit the Streets of America and you'll get some awesome pictures and learn how forced perspective works. This area is often overlooked unless the Osborn Spectacle of Lights is happening but its a nice place to get some family photos.
5) Visit the Writer's Stop. On the corner of the Streets of America is a small store. The Writer's Stop has everything a book and coffee lover could need. I like this store because it is a nice place to pause during a busy day. Puruse the books and enjoy a coffee and a treat. I recommend the iced carrot cake cookies. They are delicious.
Disney's Hollywood Studios is a park full of diverse attractions, from thrill rides to fine dining. If I was traveling with a group of adults I'd make sure we spent time at this park, and maybe make plans to eat here more than once. The dining choices are some of the best in any park. Happiness squared.
Goofy Tip: There are lots of adult activities on property that are not require a park ticket. You can go golfing on a variety of courses, go fishing with a guide, and go boating on many of the park's lakes as well as dozens of other pastimes. If you want the ultimate thrill you can drive an exotic car at the Walt Disney World Speedway. How often to you get the chance to ride in a car that cost six figures? It would be a Tony Stark moment.