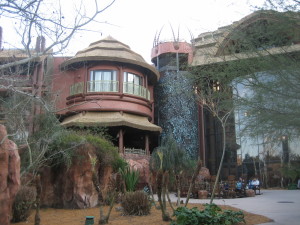 No one who knows me would say I am an adult. Well, I guess I am an adult because of my age, but I am definitely not grown-up. So how can I write a series on adult things to do in the Disney parks? I know a lot of adults and if I was visiting the parks with them I would recommend these ideas. The fun part is that the five ideas I have listed work for both grown-ups and those of us who never grew up.  My short list works for those adults who don't want anything Mickey Mouse. Why would they go to a Disney park, you ask? Because the parks are for everyone. Today we'll visit Disney's Animal Kingdom at Walt Disney World.
I hope that just because you consider yourself an adult that you still like animals. I think animals are liked by just about everyone. That being said Disney's Animal Kingdom is a great way to see some animals that you probably don't see every day, and even better you can see them up close and personal. When you stop and watch many of these animals you will learn things that make them more remarkable than they already are. Disney's Animal Kingdom is not a large park, nor does it have a ton of rides. This makes it a park that you can relax in. Take time to wander the winding paths without feeling pressured. Surprises are found to those who keep their eyes open.
Many of the attractions are great for adults with only a few exceptions. I explain both below.
5 fun activities that adults can enjoy at Disney's Animal Kingdom:
1) Watch the Festival of the Lion King. Walt Disney World has tons of great shows, but this one might be the best. The singing is amazing, the acrobatics are thrilling, and costumes are stunning. This show is a must-see and a great reason to visit Disney's Animal Kingdom. It is moving into a new theatre that was designs specifically for this show. I can't wait to see it again once it has moved.
2) Stay out of Dinoland. I love dinosaurs but I stay out of Dinoland. I know what the idea was behind Dinoland, but it is just a big playground for kids filled with carnival rides and doesn't have a lot of appeal, even for adults who love dinosaurs. The kids love this area though, and it is a great way for them to blow off steam. However, I recommend that adults stay away.
3) Stroll through The Maharajah Jungle Trek and The Pangani Forest Exploration Trail. Taking  a ride on the Kilimanjaro Safaris is fun and you'll see a lot of animals off in the distance, but if you want to get up close to hippos and tigers and gorillas then you need to walk. These two trails, one in Africa and one in Asia, are the best way to see some remarkable animals. The theming is so good that you'll think you've left Florida and entered a new continent.
4) Enjoy a meal at Tusker House or Yak and Yeti. There are not a lot of grown-up choices for food at Disney's Animal Kingdom. Many of the restaurants are counter service with typical park fare. For a more interesting meal try out the Tusker House in Africa or Yak and Yeti in Asia. There you can get food filled with all the flavors of the land you are visiting.
So, Hakuna Matata! Disney's Animal Kingdom is sure to delight even the most grown up grown-up. This park was designed to be immersive so keep your eyes open and these lands will enchant you with their story. Happiness squared.
Goofy Tip: Some of the best restaurants not in the parks, but at the resorts. One way to enjoy an adult experience at the parks is to wander around the resorts and enjoy a fine meal there. I especially like the Animal Kingdom Lodge. The architecture is interesting and there are animals like giraffes roaming around outside. While there enjoy dinner at Jiko – the Cooking Place. You will have a meal that is unforgettable.