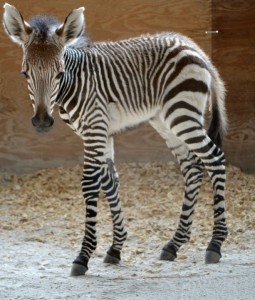 Zebras are one of my favorite animals. I just love their stripes. So I was very excited to learn that a zebra has been born at Disney's Animal Kingdom Lodge at Walt Disney World. If I ever stay at a Delux Resort I would stay at Disney's Animal Kingdom Lodge. I would love to see wild animals outside my room window. For those who are staying there they can now check out a month old baby zebra grazing with her mom. No two zebras have the same stripe patterns so this lovely girl is one of a kind.
Did you know there are three types of zebra? This baby zebra is a Hartmann zebra. You can tell the difference between a Hartmann zebra and other zebras by their stripes. Hartmann zebra stripes do not go all the way around their bellies. (Look at the picture to see what I mean.) This birth is extra special because Hartmann zebras are vulnerable and there are not many breeding programs for this type of zebra. It is cool that Disney is having success.
If you would like to see more pictures of this cute zebra the Disney Parks Blog has a great post about her. I think I'll wear stripes today to celebrate. Happiness squared.
Goofy Tips: If you can't stay at Disney's Animal Kingdom Lodge consider eating a meal there. Both Jiko and Boma are fantastic. I love the flavors of Africa that are in every bite.