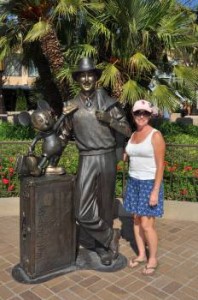 Last September I visited the Disneyland Resort with my best friend, Rhonda, my parents, my Aunt Patti, and my runDisney partner, Judy. Most of us had cameras because we all like to scrapbook. Judy's camera had been acting up for a couple days and her pictures tended to be dark. On our last day in the parks, while waiting for World of Color to start, she decided to try and fix the problem. As she tried to discover the solution, the camera deleted all her photos without the standard warning. Every picture was lost.
Now, as I said, most of us had cameras so she would have pictures to put in her scrapbook, but this mishap was regrettable on two levels.  One, we'll never know what pictures she took and she might have had some great ones. And two, the only picture of Judy with Mickey Mouse was on her camera. It was remarkable that we even saw Mickey Mouse and losing that picture was a great disappointment.
All this is water under the bridge, but I share this story with you in the hope that it never happens with your photos. You may think that your camera will never malfunction, but other things could happen to it, such as it getting stolen, lost, broken, or soaked on Splash Mountain. Here are four ways to save your photos so that a camera malfunction does not erase all of your treasured pictures.
4 ways to keep your photos safe while at the Disney parks:
1) Transfer your photos each night. If you have an iPad or other tablet you can transfer the photos in your camera to your device with an SD card adapter. This is a great way to instantly share pictures and back up your camera. If you took photos with your smart phone you can save them in a variety of apps, or create an album on Facebook. One other option is to email the pictures to yourself. Whichever format you choose, by backing up your photos each night you can only lose a day's worth of photos should your camera malfunction.
2) Use a different SD card each day. Perhaps you are like me and don't have a tablet or a smart phone. You can easily protect your photos by using a new SD card each day. SD cards are fairly inexpensive nowadays and if you keep them in a small baggie then you won't lose them. Just make sure you label them so you know which one was used on which day.
3) Have everyone take the same pictures. I usually follow this rule, but apparently this time I didn't. If you have multiple people with cameras have them all take pictures of the really special shots, like visiting Mickey Mouse. Then the loss of one camera will not be as tragic.
4) Use Photopass photographers whenever possible. Photopass photographers are awesome and can often be found at picturesque places in the park and at character meet and greets. They are more than willing to take pictures with your camera, but be sure to have them take your picture with theirs, also. It is free unless you buy the picture and you'll have a copy of the photo safe at the Photopass website if something should happen to your camera.
Nothing spoils a vacation like losing much loved photos of your trip. With these four tips you can avoid the stress and disappointment and focus more on spending time with your family and friends. Happiness squared.
Goofy Tip: If you are at the parks and you need camera supplies or a place to charge your camera then head the camera shop at each park. The shop will be listed on the map brochure. Most of the parks have a place where you can buy what you need and even get your camera charged. This is also where you can buy albums and picture frames so you'll have a great place to store and display your memories.