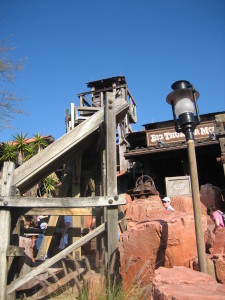 I love to collect things but a lot of the things I collect would be considered more like a list than an object. I will read all the books by an author I like so that I can check off every title on my list. I hope to visit every National Park site in the United States so I can get every stamp in my National Park passport book. I have lots of other lists that I am trying to complete and now I am adding another.
There are ten Disney parks around the world right now and I definitely plan to visit all of them and check off that list. But I just learned that the first Big Thunder Mountain Railroad opened at Disneyland on September 2, 1979. I love this attraction at both Disneyland and the Magic Kingdom and I wondered how many other Big Thunder attractions I could ride.
It turns out four parks have Big Thunder Mountain Railroad attractions. Besides Disneyland and the Magic Kingdom they are at Disneyland Paris and Tokyo Disneyland. Yay! I have a new list. I want to ride all four versions and have my picture taken by the sign outside each of them.
Do you have fun lists that you are trying to complete? Are any of them Disney related? Along with visiting every Disney park and ride on every Big Thunder Mountain Railroad I want to run every RunDisney race at least once. Who knew that lists could be so fun? Happiness squared.
Goofy Tip: As you make your lists remember that the parks change all the time so your lists will probably change, too. If you truly want to finish a list than don't dawdle. It might be easier to be flexible. Remember that changes in the parks means you get to have new goals and even more fun.