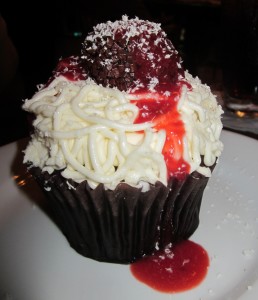 Disney has been creating some amazing cupcakes recently. They are so amazing that they presented the newest ones this week for Earth week. These cupcakes have chocolate frosting, crumbled Oreo cookie "dirt", and either gummy worms or smiling strawberries. They look good enough to eat and that is the problem with all of Disney's special cupcakes. They are a huge (and I mean huge) temptation.
Now I am not saying you should be on a diet while visiting the Disney parks. I certainly don't think about calories while on vacation. However, I do hate that super-full feeling, and being queasy can really disrupt your trip, so I don't recommend eating everything that is not nailed down.
But how can you enjoy a humongous, tasty, fanciful cupcake and still have room for all the other delicious things you want to enjoy? Having been in this dilemma more times than I can count I can help you out. That way you can have your cupcake and eat it too.
5 ways to enjoy a Disney cupcake guilt-free:
1) Share with a friend. This is the most fun way and it means you can try out lots of different treats. One Disney cupcake can easily be shared by four friends. If you bought two different ones you would have a lovely variety that everyone will enjoy.
2) Substitute it for a meal. Instead of grabbing a burger and fries head to one the the lovely bakeries at the parks and enjoy a cupcake. This may seem like an indulgence, but one time won't hurt. You can eat lots of fruit and vegetables when you get home.
3) Take it home. I did not make up this idea. It is often mentioned by other Disney blogs during a discussion of the Disney dining plan. Apparently it is common to have snack points left over. They recommend you buy snacks to enjoy at home. Cupcakes are great because they are portable and hold up to some jostling. However, if this is your plan I suggest bringing some Tupperware from home. The cardboard boxes provided by Disney don't protect a cupcake longer than a few hours.
4) Take a picture of it. Perhaps you really can't eat anything else but you want to remember how wonderful that cupcake looked. Well, a picture may be worth a thousand words but it is also zero calories. I take pictures of a lot of the desserts in the Disney parks, whether I am eating them or not. They are works of art.
5) Forget it, just eat it. Okay, truth time. This is what I do most of the time, and while it is tasty, I often wish I had picked options 1 through 4. If you are going to eat the entire cupcake no matter what, than I suggest you dump the guilt off the edge of the Tower of Terror and enjoy every bite.
There are a ton of great food options at the Disney parks. The cupcakes are amazing, but I am often tempted by everything from breakfast pastries to awesome Mickey Mouse cookies. Whatever treat you choose these ideas can help you get the maximum guilt-free enjoyment out of your treat. Happiness squared.
Goofy Tip: It is hard to list all the cupcakes that are available because a lot of them are only around for a limited time. However, if you or your kids want a fun cupcake that is always available than head over to Mama Melrose's Ristorante Italiano at Disney's Hollywood Studios and order a Spaghetti and Meatball cupcake. This fun treat may look like pasta but it tastes awesome. Be sure to take a picture because it will be gone in a flash.