Cars Land at Disney's California Adventure has the newest automotive attractions in the Disney parks, but they are hardly the first. One of my older favorites is Lights, Motors, Action! Extreme Stunt Show at Disney's Hollywood Studios. So in honor of auto attractions everywhere here is some goofy trivia about this high-speed awe-inspiring attraction.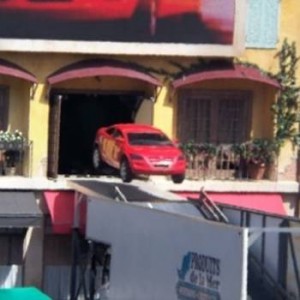 5 fun facts about Lights, Motors, Action!
1) This attraction actually debuted at the Walt Disney Studio Parks in Paris, France. It arrived on this side of the Atlantic in 2005.
2) This show is about more than just fast cars. It takes you behind the scenes of an action movie and shows you how great car chase scenes are made.
3) It takes a lot of vehicles to make this exciting show happen. There are three cars acting as the hero car (they are red), five pursuit vehicles (all black), four motorcycles, and two jet skis. Along with all the vehicles you see there are more backstage in case a vehicle needs to be replaced.
4) Without talented drivers the stunts would be disastrous. The drivers train for ten weeks on a practice course backstage before we see them onstage.
5) Safety is most important so the drivers wear protective suits. These suits are not cool and neither is the Florida weather, so the drivers are kept comfortable with water that is pumped through the suits.
This show is one of my must-see attractions at Disney's Hollywood Studios. To learn more about this attraction and others read The Imagineering Field Guide to Disney's Hollywood Studios
 (buying it through this link supports A Goofy Idea). The Imagineering Field Guide series is my favorite way to learn about the parks.
Goofy Tip: Lights, Motors, Action! only plays one to three times a day so when you are at the park be sure to check the daily schedule of events. For the best seats plan to arrive early. Buy a snack and take a break. Before the show starts there are fun trivia questions on the jumbo screen.
Another Goofy Tip: This is a photography tip. Do you know the delay time on your camera? With my camera there is a slight pause between the time I press the button to the moment that the photo is taken. The cars are moving so fast that if I push the button just as the cars make a jump I miss the picture. To correct for this I press the button before they do the stunt. Then my camera takes the picture at just the right moment. It may take some practice, but keep trying and you you'll get that wow shot.